PART ONE: CUTTING OUT THE TANG SLOT WITH A JEWELERS SAW.
#1. Measure the tang. Mark the guard blank with a scribe and drill a small hole at one end of where the slot will be.
Tip: Patina the blank first to help see the lines better.
#2. Thread a, #1 cut, jewelers saw blade through the hole. Secure the blank with a clamp and saw all the way around, staying just on the inside of the lines, adjusting the clamp and positioning of the blank as needed. In this example I'm using 3/16 inch thick bronze for the guard.
Tip: When using a C clamp, pad it with a small piece of leather to protect the surface of the guard blank.
At this point the guard blank should not slide all the way up the tapered tang. It should be a little too tight. The fit will be adjusted further before final assembly.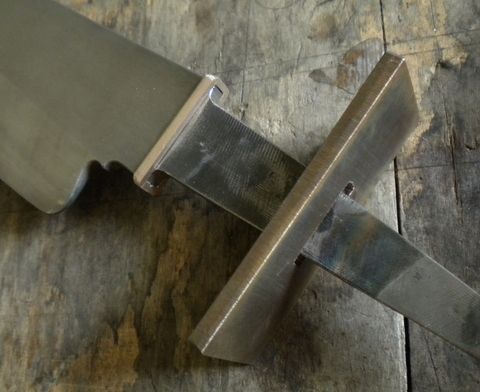 Note: The tang is tapered from all sides so that when the guard is driven on it tightens up as the tang is wedged into the slot.